Eye is the window of the soul...
... and, it is the
most important
feature to "enhance" when we are applying our make up as it is the focus of our face and the first face-feature that people notice from us (eye contact). I am sure you have seen Elsa without her make up.
Elsa without Make Up
or, let's imagine Mrs. Panda without her 'eye shadow'
Now, you know why it is soooooo important
I personally believe that the term "
you have a beautiful eyes
" doesn't stand for nothing. People are attracted to your eyes the first thing and it is one of the important feature to tell about our personality and to convey our emotion. We do a lot of things with our eyes alone, seeing, showing emotion, flirting, communicating, convincing people, detecting lies, and the list goes on and on.
If your eye make up is too heavy, you will look older; too little or no make up, you will look like you are just wake up and languid. Apply it correctly, you can create an image that you want people to perceive, whether it is professional look, mature look, mysterious look, etc.
Office Look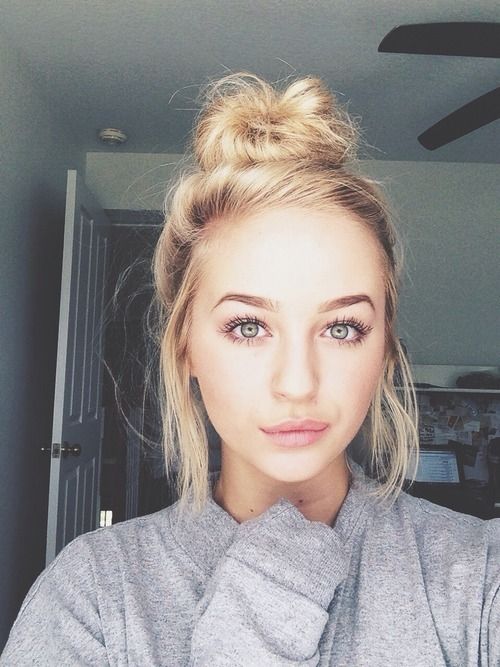 Everyday,
youthful look
Party Look
these images are taken from google for example purpose.
To conclude: eye make up is so
damn
important. Not only because eyes is the
first thing
people notice from us, but the impact it has on our overall face and people's perception of our personality.
(Although, yes, the overall make up and attitude does count!)
Beauty comes in all shapes and sizes, which is also true when we are talking about our eyes. Every shapes and sizes are beautiful because God's made it, and God's never make any mistakes. Everything was planned and shaped perfectly. I was against 'plastic surgery in the name of beauty' as that means you are not being grateful of what God's has given to you.
Everyone is beautiful
, and make up was created to enhance that beauty. Knowing all your strong point and able to enhance that; knowing all your flaws and cover that, with paints and powder, that is make up is all about.
I do not have a hell lots of products to switch here and there or have lots of make up techniques. I am learning and I am sharing it. I own couple of stuff with good quality and try to maximize those stuff for my face. My steps are relatively easy to follow even for beginner as I am a beginner as well. It is flawed here and there but what/who's a better teacher than trials and errors?
SO, LET'S START!
1. Apply your eye cream
There is no secret that the essence of Korean Make Up is to create a youthful and natural look while maintaining the healthy glow of the skin. In a country where Skin Care is equally important as Make Up, as the first step of your entire eye make up procedures, of course you have to apply the eye cream!
It is a general knowledge that the skin around our eyes is the thinnest of our body, it is 10 times thinner than the skin in our face! so, always use your ring finger to apply any skin care or make up around your eyes. Be extra careful to not put too much pressure as it may caused collagen breakdown or hurts the tissues around the skin which may lead to dark circle and wrinkles in the long run.
L'Ocicitane Immortelle Eye Care & Mask Duo
I am using my L'Occitane Bright Eye Immortale. The texture is watery and not too creamy or heavy to my eyes and my eyes feel refreshing and moist afterwards. Been using this for a year now.
Applying eye cream helps us maintain the moisture in our eyes and to kinda protect them from layers and layers of make up that will come later. Be extra careful in choosing your eye cream. You will not want the eye cream that is too heavy for your eyes as it will caused the eyes around your skin to have the little bumps, which is a big NO-NO. Do not be hesitate to ask for samples before investing your money in the products and make sure to use the eye cream that suits your needs (anti-wrinkle, whitening, etc).
I also suggest every one above the age of 21 to start applying eye cream, it will help to slow down the wrinkling!
2. Appl

y your eye primer
A lot of people might not be aware of the purpose of eyeshadow primer, hence they are not using it. I have just recently been using eyeshadow primer when I get them for free from Urban Decay's with my purchase of NAKED2 palette. I found that my eyeshadow actually last longer and the colors are more vibrant than without the primer. Plus, might be another psychological thingy, but I think the primer helps to protect my eyelids' skin and to act as the barrier for the eyeshadow (so that the coloring substances are not touching my bare skin directly).
I am using my Urban Decay's Eye Primer in sachets, a complimentary gift from my eyeshadow palette purchase.
Urban Decay's Anti-Aging Eyeshadow Primer.
Always apply primer to protect your eye's
thin skin and for your eyeshadow to
last longer.
Always use your ring finger to apply anything on you eyes.
Ring finger has less power and put less pressure to
eye's fragile and thin skin.
3. Apply your Eye Shadow
After preparing your eyes with the primer, we come for the fun part, eyeshadow. Until recently, I never know how to apply eyeshadow. I will just owned 1 color, which is dark brown and apply it on the crease near my eyelashes and that's it.
Then, after numerous trials and errors, I found the way that is easy enough to follow!
I am using my one and only eyeshadow which comes in a pallete, Urban Decay's NAKED2. I have no other eyeshadow other than this. The colors below are the ones that I am constantly using as they suit my eyes best. I love the earthy colors which creates a natural looks. Chopper is my favorite. I usually match what I am wearing with the matching shadow to accentuate my look.
from the left (halfbaked, bootycall, chopper, tease, snakebite, suspect)
1. Apply 'Bootycall' to the 1/3 inner corner of your eyes
2. Apply 'Chopper' to the area number 2 (major half of your upper eyelid and lower eyelid)
3. Combine 'Suspect' and 'Snakebite' to apply on your crease area (area number 3) and blend inward
4. Take 'Halfbaked' with your finger and dab lightly on the mid of your upper lid to create dimension)
It actually looks better in real life, the camera couldn't catch the colors well enough. TT,TT
4. Eyebrow
Eyebrow has been gaining huge huge popularity lately, especially where I live, Indonesia. A lot of people actually neglect the importance of eyebrow for their whole appearance and I used to neglect it too. I am blessed with thick and quite define eyebrow so it doesn't really concern be before, no matter how many people were raving about brow-thingy.
Little that I knew, eyebrow does give a lot of impact to our overall face as strong, straight eyebrow will give you a youthful, softer look which the Korean like. Where as the thinner, curved eyebrow will give you the mature look the Westerner like. Well groomed eye brow will give you a tidy, professional look as well. So, never let your eyebrow hairs run astray.
I honestly haven't found the perfect way to shape my eyebrow. I was thinking of doing an eyebrow tattoo which is very popular among young ladies here in Indonesia, but my mother forbid me to do that.
Right: I am using ETUDE Color My Brow is shade number #1
Since I have somewhat define brow, I am just using the eyebrow mascara to fill the missing parts of my eyebrow and to give it colors (since I dyed my hair dark brown). I am still learning but I will update this blog once I am pretty sure that I have found my 'perfect brow'.
check out my updates
here
One of Korean's latest make up technique invention, the tear duck liner is not to be missed. The purpose of giving the area near your tear duck a shimmering glow is to make your eyes bigger and brighter. If you have never try this before, you should! It worth the try. I actually get a lot of curious questions about my tear duck liner products and how it makes my eye bigger and brighter.


Apply on the inner corner of your lower lid (near tear duck)
This will give you a big, bright, 'awake' eyes.
You can use shimmering eye shadow like the NAKED2 'Bootycall' or any other type of eye products that can give you the shimmery look. However, I am using the Etude Play 101 in shade number 4. It comes in a pencil packaging with sharpener at the bottom. The pointy pen-like-shape is making it easier to apply the line more precisely. The texture is creamy and glittery but long lasting and smudge proof. I usually wear it whole day and it actually stays.
Etude Play 101 Pencil in number 4.
It looks like pencil with sharpener at the end on the pencil.
The texture is creamy and shimmery and it last long.
6. Eyeliner
Eyeliner is one of the important basic make up. Undoubtedly, wearing an eyeliner can give you a more define eyes as it outline your eyes, creating an illusion that they are bigger or longer depending on your needs. The use of eyeliner has been tracked back since the ancient Egypt and by today, there has been a lot of improvements in the drawing style and types of eyeliner.
I have an oily skin around my T-zone area so I preferred the liquid eyeliner in forms of pen or brush compared to gel or pen. I used gel eyeliner before but it smeared pretty fast and at the end of the day, I usually turn to a panda. I always use a waterproof eyeliner as well.
K-Palette 24H Tattoo Liner in Dark Brown
Since I dyed my hair dark brown, I am using dark brown eyeliner. I used the K-Palette 24 H tattoo liner. The color is soft and natural and the brush is precised. It is a brush liner. I used to use black liner before, but that give a too-fierce impression on my face as I already has a too-big-eyes for my face.
Left: Apply on the upper lid of your eyes until the end. You can go up for cat eye look if you wish.
Right: Softly, draw a thin line on half of your lower lid. This will help creating an effect of larger eyes.
There are couples of way you can wear you eyeliner. You can do cat eye to make your eyes longer and more upturn. I used to love cat eye look before but now I shifted to a softer more "puppy eye" look that is pretty popular in Korea right now.
Instead of drawing the end of the eyeliner UP, you just continue to draw it until the end of your natural eye shape. In my eyes, it will look like the picture on the left. After that, continue to draw a soft, thin line from the end of the previous line under the lower lid. I like to draw mine until the middle part, where it will connect to the tear duck line that I drew previously.
check out my K-Palette 24H Eyeliner Tattoo in Jet Black
here
.
7. I AM DONE!!
Here is the finish look.
The Finish Look
I personally are not fond of mascara because it was hard to remove, clumps easily, and feels heavy on my eyes. But you can top this look with mascara if you would like to.
That's all of my eye make up for daily use. If I somehow discover a new way to do my eye make up, I will definitely update this post. But for now, this is it!